Critical Acclaim
Orlando (Stony Brook Opera)
Kim personified the maddened man's anguish and heartbreak over losing his true love through her commanding mezzo-soprano voice. Kim evokes a mental deterioration of her character through her overwhelming voice, and the audience sees the once strong soldier Orlando almost come to his demise.
— The Statesman, Stony Brook, April 2013
Madama Butterfly (Bar Harbor Music Festival / Fresno Grand Opera / Cleveland Opera / El Paso Opera)
…her maid and confident Suzuki – beautifully sung in a rich mellow mezzo-soprano by Kyung Kim…
— Mount Desert Islander, Bar Harbor, July 2010
Butterfly's maid Suzuki was sung by Ryu-Kyung Kim, and her realism in the face of Butterfly's idealism could not have been more convincing. Moreover, her voice complemented (Shu-Ying) Li's in their duets better than any pair Fresno Grand Opera has combined in its 10 years. The timbres, the volume, and the musicianship came together exactly as the composer hoped: each note distinct, harmonious in combination, balanced.
— Fresno Bee, Fresno, CA, February 2008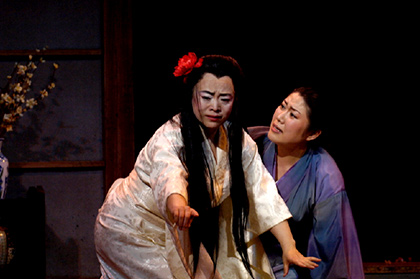 The cast had a compassionate Suzuki, mezzo-soprano Ryu-Kyung Kim. Ms. Kim played Butterfly's servant with winning grace, melding her suave voice beautifully with (Guiping) Deng's in the "Flower Duet." And she would be welcome anytime at Cleveland Opera.
— The Plain Dealer, Cleveland, April 2005
A good foil to Cio-Cio San was Ryu-Kyung Kim as her devoted servant, Suzuki. It was a promising Cleveland Opera debut for this expressive mezzo-soprano.
— Akron Beacon Journal, April 2005
Ryu-Kyung Kim's rich mezzo added unwavering support to the role of Suzuki.
— El Paso Inc., September 2003
The richest voice on stage, however, belonged to mezzo-soprano Ryu-Kyung Kim who made Suzuki a fully devoted character.
— Philadelphia Inquirer, November 1999
Rigoletto (Boheme Opera)
Ryu-Kyung Kim brought a pleasantly mellow mezzo and detailed characterizations to Maddalena and Giovanna. Pucciatti's having Rigoletto throw the Duke's bribe money at a prostrate Giovanna, Traviata-style, as Act I ended strained dramatic credulity, but the complexity of Kim's portrayal went far beyond the usual duenna "business."
— Opera News, April 2007
Tristan und Isolde (Korean Symphony Orchestra)
Ms. Kim sang the role of Brangäne with such rich Italian sound and equally succeeded in delivering Wagner's long phrases with full of German expressions and colors. Her Brangäne was strong yet sympathetic.
— Korean Music Journal, January 2006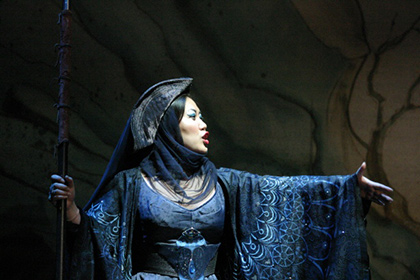 La Cenerentola (Ash Lawn-Highland Opera Festival)
Cinderella was sung by mezzo Ryu-Kyung Kim who proved a sympathetic, underdog heroine. Her music requires a huge range and a nimble instrument, both of which she showcased admirably, climaxing in the well-known final scene aria.
— Daily Progress Correspondent, Charlottesville, July 2002
Otello (Baltimore Opera)
Ryu-Kyung Kim was a sympathetic Emilia.
— Washington Post, March
The Floating Box (Asia Society of New York)
A remarkably gifted cast of three, undaunted by the score's considerable challenges, brings realism and poignancy to the universal themes of alienation, family tragedy and reconciliation. As her mother, Ryu-Kyung Kim elicits all our empathy in an extended, atonal, mostly a cappella aria, during which she tries to rouse her despondent, recently unemployed daughter.
— Opera News on Recordings, September 2005
Korean-born Ryu-Kyung Kim was simply splendid. This is the opera's juiciest role, taking the character from vibrant young wife to fretful old widow and it is hard to imagine a more sensitive performance. Clearly based on careful observation, Kim's physicality was never overdone. While she portrayed the Mother's young self, one saw the roots of the old woman to come. Her singing was no less accomplished, especially in the scene where the Mother's indomitable spirits burst through her despair, and in the final scenes of mother-daughter reconciliation.
— Opera News, January 2002
The score does prove a fine vehicle not only for the erhu but also for the excellent cast members: Ryu-Kyung Kim as mother
— The New York Times, November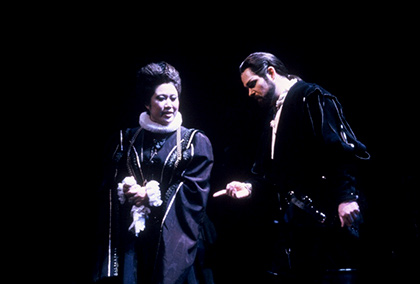 Le Nozze di Figaro (Academy of Vocal Arts)
An impetuous Cherubino!
— Philadelphia City Paper, May 1997